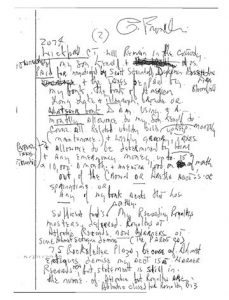 Following Aretha Franklin's death in August last year, it was believed that she had died intestate. This week, lawyers acting for Ms Franklin's estate have announced that three handwritten Wills have been found at the singer's home. Although the Wills have been found, the validity of all three Wills is being questioned.
Under English law, there are a number of things to consider in order to ascertain whether or not a Will is valid. Firstly, a Will must be created and executed in accordance with the relevant legislation. This means that the Will must be in writing, signed by the testator (the person making the Will) and the testator's signature must be witnessed by two people who are present at the same time. If the testator cannot physically sign the Will then it can be signed on his or her behalf, as long as this is at the testator's direction and in his or her presence.
However, a correctly signed Will is not necessarily a valid Will. To create a Will a person must have the necessary capacity to sign the document, must have knowledge and approve of the contents of the Will and must not be under any undue influence or duress.
Using a professional to create your Will means that all the necessary conditions for your Will to be considered valid will be at the forefront of our minds. If we believe that any further action needs to be taken to safeguard your Will from claims of invalidity we can advise you and assist you in protecting your Will and your wishes.
Another difficulty facing Aretha Franklin's family is that she made amendments to her Wills after they were created. Some of which cannot be clearly read and some of which may again be considered invalid.
If, once your Will has been made, you wish to revisit your wishes and amend the document, a lawyer can advise you if this is necessary and, if it is, how to ensure the amendments are valid.
If you need help or advice about creating or amending your Will contact our knowledgeable and friendly wills and probate lawyers who would be happy to hear from you.
Similarly, if you have any concerns of the validity of a friend or relative's will, our dispute resolution department would be happy to discuss matters with you.
As for Ms Franklin's estate, estimated at approximately $80 million, a hearing has been set for 12 June.
About the Author
Claire Thompson is an affiliate member of The Society of Trust and Estate Practitioners (STEP).
Claire specialises in all aspects of private client law including Wills, Powers of Attorney, Court of Protection matters, Estate Planning and Estate Administration.
Claire can be contacted on c.thompson@bartons.co.uk.